We Are Born In The Cayman Islands
ABOUT US
De Bleu Hair Salon & Spa offers a unique and enjoyable experience that caters to all your relaxation and beautification needs. We pride ourselves on our dedication to please our clients by offering the utmost customer service and an exquisite array of treatments performed by our skilled professionals. With services ranging from the newest hairstyles ,customized facials and nails services . There is surely something to tickle everyone's fancy. Experience the difference at De Bleu Salon and Spa, where nurturing inner and outer beauty is what matters most!
De Bleu Salon & Spa vision is to provide a peaceful environment for self-reflection and rejuvenation while making each guest feel cared for and worthwhile. De Bleu Salon and Spa has adopted and adheres to the following core values as the foundation upon which all business practices are based.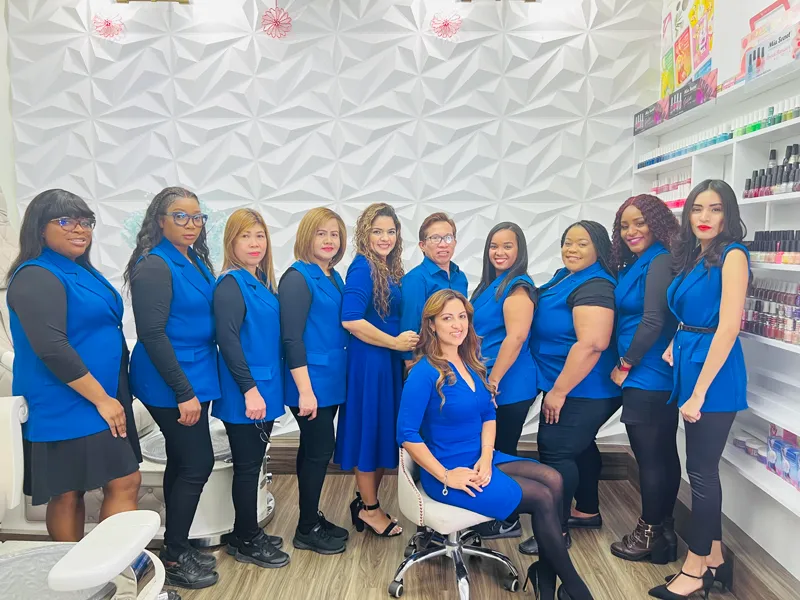 Marilu Bodden
I am the proud owner of  De Bleu Salon & Spa. I have been creating fabulous hair colors and hairstyles  for 25 wonderful years. I am originally from Honduras. I attended University of Honduras  for Business administration and shortly realized Beauty  has always been my muse. The one thing I enjoyed the most, other than making every person that sits in my chair look and feel fabulous, is understanding my client's personality and lifestyle to help create the best look for each individual. I love my career! It is very rewarding to see my client's transformation. I enjoy traveling to explore and to further my education with as many classes as I can attend to bring back the latest trends to my clients. In addition to cutting, coloring, highlighting hair & Balayage, I am also certified in numerous hair products brands. 
keadisha Dunn
Nail Technician/Hair Stylist
8+ years of experience on pedicure, manicure, acrylic nails, nail art, gel polish, hair extensions and more.
Dina Acala
Hair Stylist/Manicurist
14+ years of experience on smoothing hair treatment, hair color, hair cuts, manicure, pedicure, gel polish and more.
Marylin Santos
Beauty Therapist/Hair Stylist/ManicuristS
14+ years of experience on facials, massages, waxing, manicure, pedicure, gel polish, hair color, hair smoothing treatment and more.
Nathalia Charlot
Hair Stylist
8+ years of experience on keratin treatment, relaxers, blow-dry color, cuts and more.
Sulan Campbell
Nail Technician/Beauty Therapist
8+ years of experience on Massages, facials,
body treatments, waxing, manicures, pedicures, acrylic nails and more .
Samuel Saligumba
Barber/Hair Stylist/Massage Therapist
I'm Samuel Saligumba.I am a barber, hairstylist, and Massage Therapist by profession for more than 20 years. I've been from training s and seminars and competitions. I'd been training for International Passengers Cruise Ship for Hairstyling,Public speaking and Personal Development Training. I won as a Champion 2003 with double trophies title for Men's cut category was held at Makati Park Philippines. I specialized in haircutting for men and women, coloring , straightening, bridal hair etc .
Shelly Levy
Nail Technician
9+ years of experience
My name is Natasha Levy from the beautiful island of Jamaica, with nine years experience as a Nail Tech. I was trained at the Touch of Class Beauty School in St. Elizabeth where I obtained a level 2 in cosmetology in 2010.
I am looking forward to meeting with you.
Yoleiny Feliz
Hair Stylist
10 + years of experience on hair extensions, hair color, relaxers, cuts, keratin treatment and much more